Due to the pandemic, KAT is continuing to operate fare-free to limit close contact on buses and keep passengers and operators safe.  As a result, transit service to several early voting locations also comes free of charge, making it easier than ever to cast your vote.
"Transportation should never be barrier to voting," says Isaac Thorne, Director of Transit for the City of Knoxville. "This is a great opportunity to cast a vote early, avoiding the potentially bigger crowds or longer lines on Election Day. Our Customer Service team at Knoxville Station is available to assist anyone who wishes to use transit to vote during this Early Voting period.  Our team can help plan your route to the voting location, and can provide information from the Knox County Election Commission's website on what identification passengers will need to bring with them when they go to vote."
There are several locations for early voting that are conveniently located directly along KAT bus routes. The list of early voting sites and associated routes is as follows: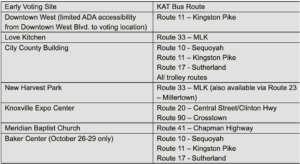 Early-voting for the Nov. 3 presidential election begins this Wednesday, Oct. 14 and continues through Oct. 29.
In addition to operating fare-free, KAT is also continuing with safety practices to ensure a healthy and safe experience when riding KAT during this time.  Buses are operating at a half-filled capacity, allowing for physical distancing when riding.  In addition, face coverings are required on all KAT buses, and KAT buses are disinfected twice daily, exceeding CDC guidelines.  Hand sanitizer and masks are available onboard all KAT buses and at Knoxville Station.