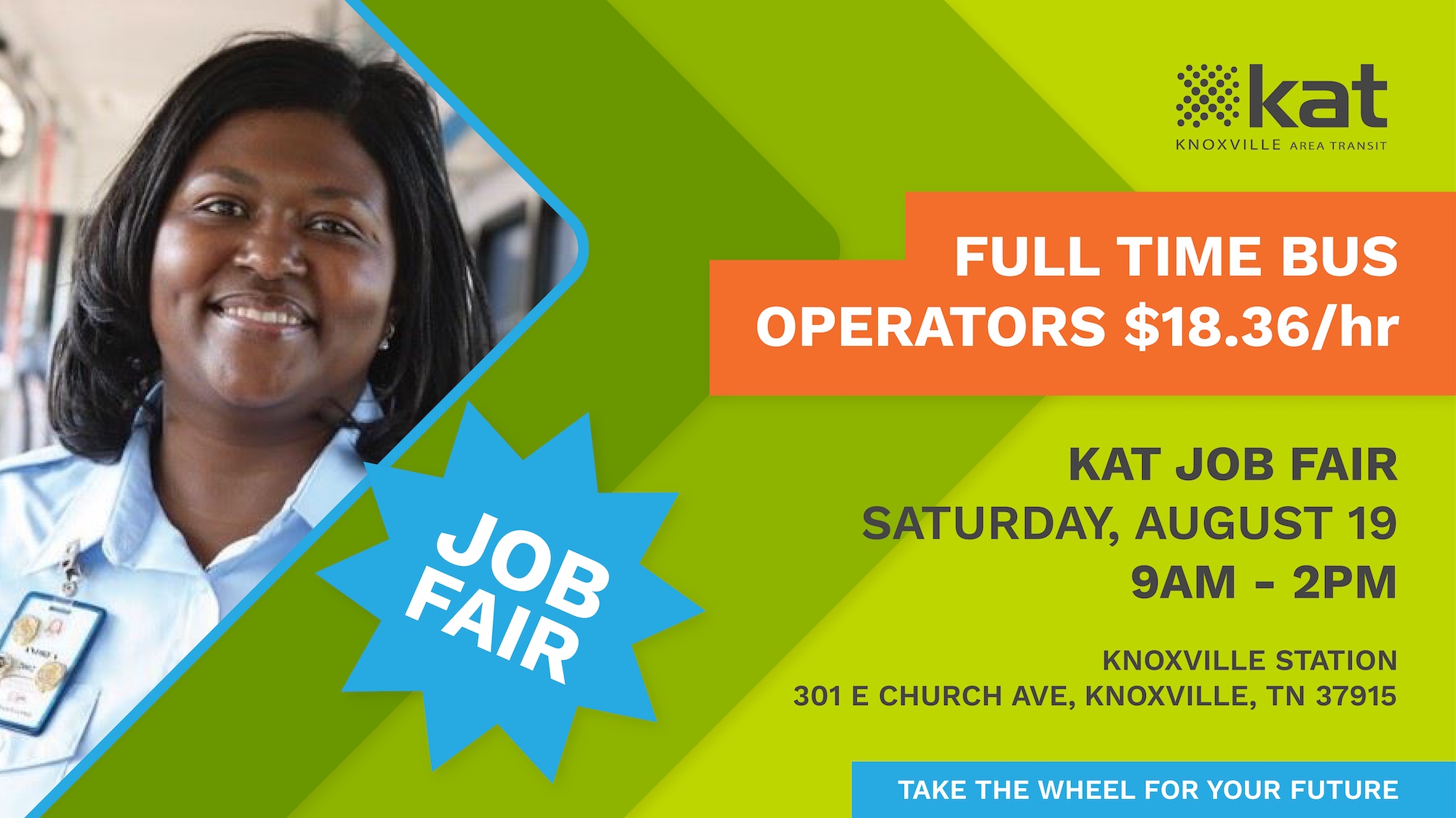 Take the wheel for YOUR future as a professional bus operator! No experience necessary – we'll teach you! Eligible candidates get paid training including a new 2-week CDL Permit Prep Course!
We're offering on-the-spot interviews, but you must bring the required documents, and to save time, click here to fill out an online application ahead of time.
Job Fair Details:
When: Saturday, August 19th, 9am – 2pm
Where: Knoxville Station Community Room (1st floor) [301 E Church Avenue, Knoxville, TN 37915]
Parking: FREE parking is available at the Knoxville Civic Coliseum Parking Garage A. Tell the attendant you're coming to the KAT job fair.
MUST BRING in order to interview (original documents, no photocopies):
Tennessee-issued driver's license
Proof of US Citizenship or lawful Permanent Resident Status
Proof of social security number
2 Different Proofs of Domicile
Click here for more information on our interview requirements.
Eligibility Requirements:
Must be 21 years or older,
Legally eligible for employment in the USA
Have a HS diploma or GED
Have a TN Driver's license
Have open availability.
Must be able to obtain a valid medical card with a minimum 1 year certificate
Must be able to pass a D.O.T. Pre-employment drug screen
Salary:
$18.36/ hour (with yearly raises)
Excellent benefits package that adds as much as 30% more value (click here for details)
Opportunities for promotion and professional development
CAN'T MAKE IT TO OUR JOB FAIR? Come by our KAT Magnolia office any Monday and Wednesday in August between 9am – 4pm to apply and interview on the spot. You must bring all the required documentation listed above to interview. [1135 E Magnolia Ave., Knoxville, TN 37917]